1st of all..sorry semua lama tak ber BW..
nak menghupdate blog pun tak sempat.he..
ok.stop pasal tu.
semalam malam sempat melayan hindustan sekejap walaupun kebusy-an melanda.
tengok cerita hindustan-

3 idiots

.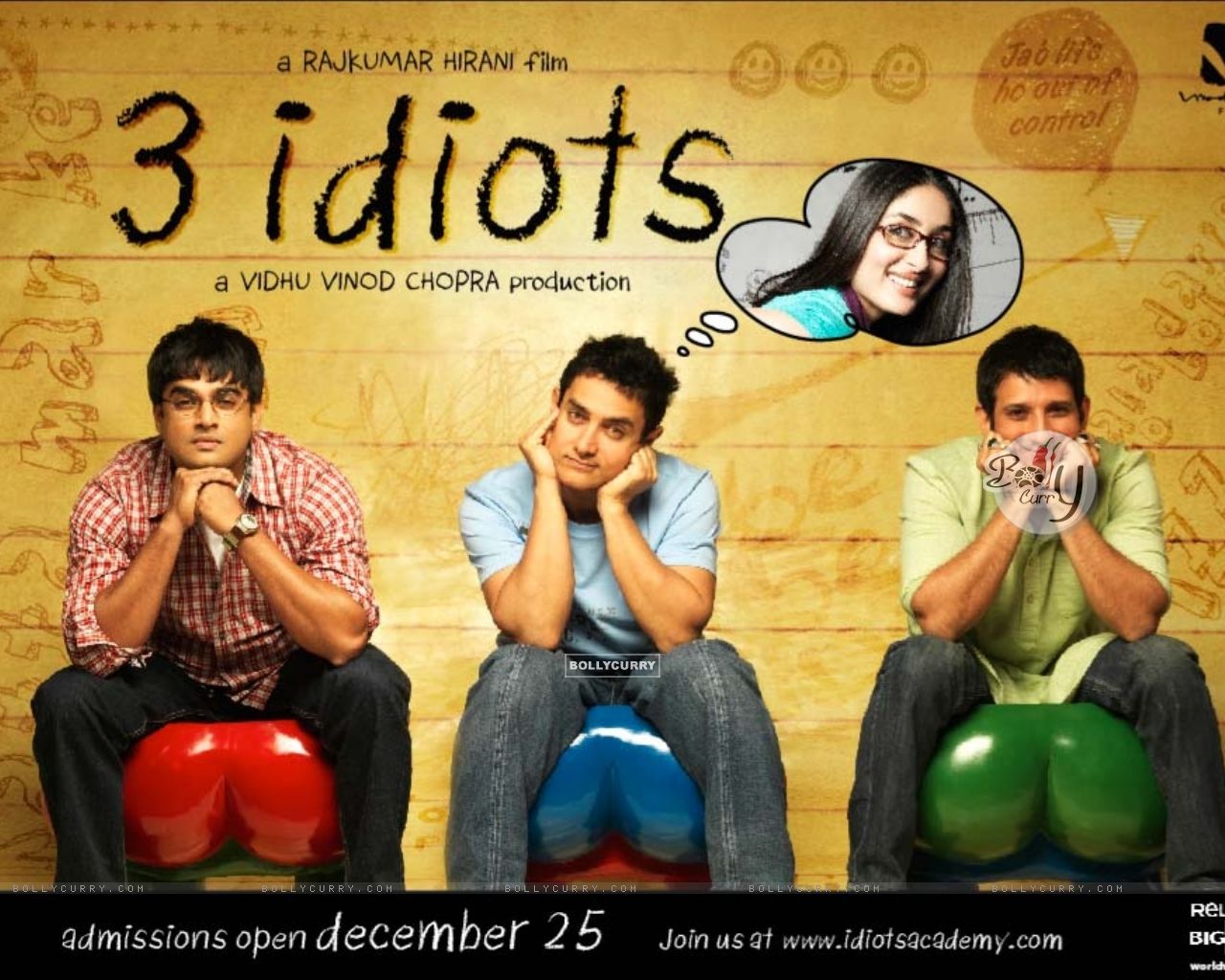 best gile cerita uh.cerita ni keluar akhir tahun lepas kot..tapi aku memang tak tengok lagi la.
masa tengok cerita ni memang feeling habes la.kawan aku cakap mcm org gile pn ade.org gile tu dia maksudkan dia lah masa tengok cerita tuh.Sebab dalam cerita tuh sekejap babak happening,dan memang klakar giler..bila sedih pulak memang sedih gile sampai sekotak tisu pun boleh habes*erkks.hiperbola dicitu.;D
Tapi aku tengok dengan member2 nak menanges pun cover-cover.hehe.Bila part yang kelakar kitorang memang gelak sakan lah.Bila time sedih,masing-masing peluk bantal fokus kt screen laptop tanpa pandang member kat sebelah.Dalam seketika tuh,mata maseng2 tengah berair tapi kat kelopak je la.huhu.
Tapi cerita ni ada juga yang censored ,awal2 lagi pulak tuh.sengall..Aamir Khan berlakun dalam cerita ni..cute gila dia.Muka memang nampak cam blur2 tapi otak geliga.Dua orang lagi pelakon utama dia aku tak kenal,tapi member cakap pernah nampak berlakon dalam cerita Tamil.entahla.betul ke tak tak tahula.he.
aha.ni synopsis cerita nih.
Two friends embark on a quest for a lost buddy. On this journey, they encounter a long forgotten bet, a wedding they must crash, and a funeral that goes, ridiculously out of control. As they make their way through the perilous landscape, another journey begins: their inner journey through memory lane and the story of their friend -- the impressible free-thinker Rancho, who is in unique way, touched and changed their lives. It's a story of their hostel days that swings between Rancho's romance with the spirited Pia, and his clash with an oppressive mentor, Viru Sahastrabudhhe. And then one day, suddenly, Rancho vanished. Who was he? Where did he come from? Why did he leave? The friend who influenced and inspired them to think creatively and independently, even as the conformist world called them "three idiots." Where is the original idiot now? Finally, in misty mountains of unparalleled beauty, the friends find the key to the secret.
amek kat sini
nak tawu lebih-lebih tengok la cerita ni.hee.
watch-3-idiots-online